PLEASE help a cartoonist out by purchasing a WRESTLING show via the pic below. This is WRESTLING, it's $15, and you WON'T be sorry!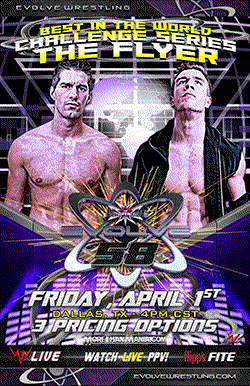 EVOLVE 9: Gargano vs. Taylor
July 26th, 2011
BB King Blues Club & Grill
237 W. 42nd Street (in Times Square)
Manhattan, NY, 10036
EVOLVE Belltime: 8pm
NYWC Pre-Show: 7pm
Doors: 6pm
Tickets will be available at the door on the night of the show!!!
If you can't be there in person watch it at www.WWNLive.com on live iPPV.
Doors open at 6pm so you can come enjoy dinner and drinks at BB King Blues Club & Grill.
Dave "Fit" Finlay Will Be Available For Autographs!!!
Kevin Steen Will Be Given An Open Mic!!!
The Main Event
Johnny Gargano (6-2) vs. Chuck Taylor (5-3)
Bonus Main Event
Sami Callihan (3-1) vs. Dave Finlay (0-0)
In Need Of A Win
Bobby Fish (1-4) vs. Jon Davis (0-1)
Tag Team Challenge Match #1
Cheech & Cloudy (4-0) vs. Larry Dallas' Mystery Tag Team (0-0)
Tag Team Challenge Match #2
Player Uno & Player Dos (0-1) vs. Facade & Jason Gory (0-1)
Special Challenge Match #1
Shiima Xion (1-0) vs. Pinkie Sanchez (0-0)
Special Challenge Match #2
Tony Nese (0-2) vs. John Silver (0-0)
Special Challenge Match #3
Silas Young (2-1) vs. Sugar Dunkerton (0-0)
Opportunity Knocks
Eric Ryan (0-0) vs. Bobby Beverly (0-0)
If you buy a ticket to attend this event you will also get into the exclusive NYWC pre-show (go to www.NYWCwrestling.com for more info on this fine promotion). The lineup is:
-Stockade & Apollyon vs. MC Kenny Royal & Ryan "The Adrenaline" Rush
-"Yours Truly" Alex Reynolds vs. Kieran vs. "The Greek God" Papadon
-NYWC Starlet Championship Match: Violet Stevens vs. Nikki Syxx