Ok, I'm not bullshitting here. WWN has a clearer stream than GoFightLive (I've watched wrestling on both) and it doesn't cut out every other match like GFL does on occassion. Also, intermission on a WWN stream is usually filled with video content, instead of a blank logo screen, so you really get your $14.99's worth.
With that said, if you're tired of watching "Action Soap Operas" I encourage you to give EVOLVE a try. They've got ROH and DGUSA stars, as well as a who's who of Japanese and American Indy WRESTLERS.
It's
WRESTLING
for only $14.99!
And the show is on Tuesday. Now you REALLY don't have ANY lame excuses not to watch this, because NOTHING comes on Tuesdays.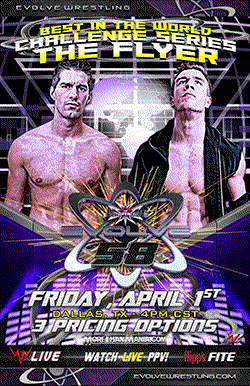 World Wrestling Network Presents
EVOLVE 7: Aries vs. Moxley
April 19th, 2011
Belltime: 8pm
Doors: 6pm
BB King Blues Club & Grill
237 W. 42nd Street (located in Times Square)
Manhattan, NY 10036

The Main Event
Austin Aries (1-0) vs. Jon Moxley (1-1)

Spoiler Match #1 (Win Leader vs. New Debut)
Chuck Taylor (4-2) vs. Akira Tozawa (0-0)

Spoiler Match #2 (Win Leader vs. New Debut)
Jimmy Jacobs (4-2) vs. Shiima Xion (0-0)

Spoiler Match #3 (Win Leader vs. New Debut)
Johnny Gargano (4-2) vs. Jon Davis (0-0)

Tag Team Challenge
Jigsaw & Frightmare (2-0) vs. Facade & Jason Gory (0-0)

International Challenge Match
Sami Callihan (2-1) vs. Zack Sabre Jr. (0-0)

Special Challenge Match #1
AR Fox (0-0) vs. Rich Swann (0-1)

Special Challenge Match #2
Silas Young (1-1) vs. Tony Nese (0-1)

Plus: Reby Sky, Larry Dallas and others!!!